About The Brazilian Butt Lift
The Brazilian butt lift is known as one of the most rapidly growing treatments in the U.S., and is currently in popular demand by both men and women. This body contouring surgery offers individuals a natural way to have a fuller, shapelier buttocks without using an implant. Weight loss, aging, as well as genetics can cause a deflated butt. Today, a curvy, rounder rear end is considered desirable. A fat transfer to the buttocks adds fullness to the butt to create the appropriate roundness and shape. It is accomplished through a uniquely specialized fat grafting and transfer process, which first uses liposuction to take unwanted fat from a targeted section of your body and then reinstates it into your buttocks. There is an artistic approach to performing the Brazilian butt lift , medical director Dr. Melanie Carreon can create natural looking results at LCS Medical Spa. If you live in the surrounding communities of San Antonio, San Marcos, New Braunfels, Austin, and Houston, TX, call our office to learn more.
Brazilian Butt Lift Ideal Candidates
The ideal patients for the Brazilian butt lift will be examined to make sure they are right for this treatment. The first consideration is to confirm there is enough fat on the body to extract for the transfer process. If you have a lower body weight or have limited fat to harvest, you may not be a good fit for this procedure. In addition, it is also important to have healthy skin laxity. If your buttocks has loose, hanging skin, you may be a better fit for a surgical butt lift. If you are at a stable weight, have enough fat to remove, and do not want to use an artificial device such as an implant, the Brazilian butt lift can be an option for you. Call for complimentary consultation with Dr. Melanie Carreon.
Reviews
"Dr Carreon is the best ! I went in for a consult for a medical procedure and she answered all my questions and gave me the pros and cons. I liked how she gave me the realistic possible outcomes so that I was prepared for it during my healing process . 10 weeks later after myProcedure iam very satisfied with myResults and still seeing improvements everyday . Thankyou Dr. Carreon and her assistant Christina !"
- D.Q. /
Google /
Feb 01, 2020
"Dr Carreon is the best ! I went in for a consult for a medical procedure and she answered all my questions and gave me the pros and cons. I liked how she gave me the realistic possible outcomes so that I was prepared for it during my healing process . 10 weeks later after my Procedure iam very satisfied with my Results and still seeing improvements everyday . Thankyou Dr. Carreon and her assistant Christina !"
- D.Q. /
Google /
Feb 28, 2020
"I have done my procedure 12/20; I wanted to wait before I submit the review. I love my results; Dr, Carreon did a great job with me, she is a smart lady, the minute I saw her I felt comfortable. The things I mostly like is that your health and safety are number one for them, they are very detailed and organized in a good way. I loved the staff everyone did great. I didn't loose weight at all but I have flatter tummy and thiner waist; liposuction is not to loose wait y'all, it's to countor your body. No pain during procedure I was relaxing but I could feel the cold wipes for the disinfectant, it was really cold, I loved the two warm pillows they gave me during procedure. After procedure you'll experience some discomfort but it wasn't bad at all. I was worried about pain. I'm much happier with my body, thank you Dr. Carreon, you deserve more that 5 starts ⭐️⭐️⭐️⭐️⭐️⭐️⭐️⭐️⭐️⭐️."
- Z.P. /
Google /
Feb 27, 2020
"I had smart lipo just about 2 weeks ago. I feel amazing and my confidence is thru the roof already. I know this will not be my final results so I'm looking forward to them...as far as Dr.carreon she was absolutely amazing and straight forward which I appreciate very much. I cannot believe how amazing she has my body looking like. Her staff starting with Priscilla and then Gabby and Sam have been nothing but the best with so much respect from them...I felt so comfortable the whole time and the procedure went so smooth. I didn't feel a thing. Best advice I can say is don't sleep the night before and you shouldn't have an issue falling to sleep for the procedure. I'm so in love with myself. Another important thing to maximize the results be sure to get the lymphatic massages they will speed up your results and recovery. I just want to give thanks and so much love to the staff of Dr.Carreon. i would do it all over again no questions asked."
- S.A. /
Google /
Feb 23, 2020
"Smart lipo - I cannot believe my results - She is amazing! I got smart lipo in my lower/upper abs pubic sides and my bra roll. My results do far have been amazing it's do crazy how small my stomach is. I'm 10 days post op and went for my first lymphatic massage (wish I went sooner) as I was starting to get fibrosis in some areas. I highly recommend them as they will make you feel so much better.I should have went 24-48 hours after my surgery. The swelling is there especially in my pubic area at times it was really scary but completely normal. But so far so good I cannot believe my results. The doctors assistance are amazing as well and always available for any questions I have. There bedside manner is so nice and they walk you thru every step of the process. If I could do it again I would with the same doctor no questions asked."
- A. /
RealSelf /
Feb 16, 2020
Previous
Next
Brazilian Butt Lift Surgical Technique
Local anesthesia is used for this surgery and is performed on-site in our AAAHC accredited outpatient surgical operating room. It is considered an outpatient procedure and on average takes about 2 – 4 hours (this depends on how much fat is being removed and transferred). Liposuction will be the first step to extract fat from specific locations on the body, such as the abdominal area, hips and thighs. This treatment of fat removal is performed. The fat tissue is never exposed to air since it is purified in a closed system.
At this time, viable and healthy fat tissue is separated and put into syringes. The final step is the injection process, where the harvested fat tissue is reinstated layer by layer followed by a gentle massage to ensure the surface is even. This process is repeated multiple times until the desired roundness and shape has been achieved. Depending on the patient, Dr. Melanie Carreon might suggest Liposuction in place of Brazilian Butt Lift to contour the hips and the abdominal area to provide a more rounded appearance. The photos below are an example of Liposuction instead of a Brazilian Butt Lift, completed by Dr. Melanie Carreon.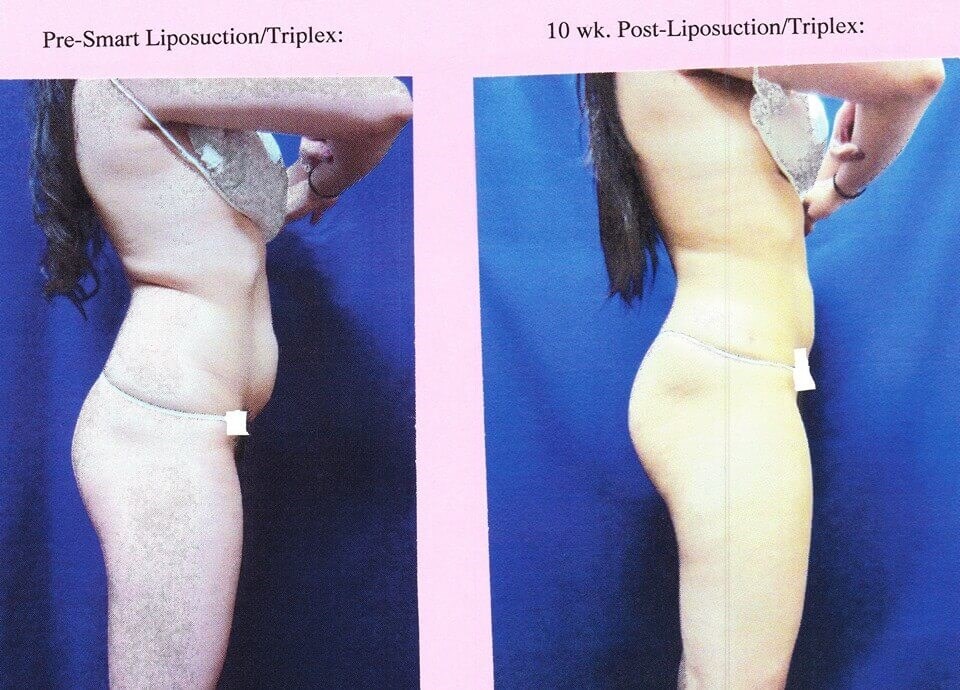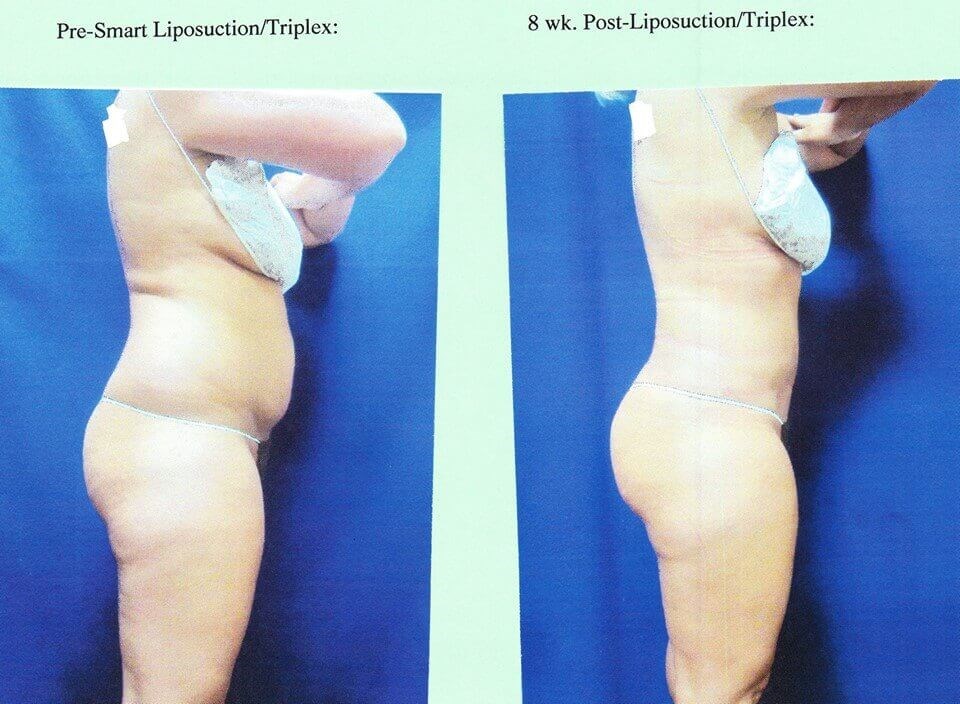 What to Expect with Brazilian Butt Lift
Following a Brazilian butt lift, you will be released home to heal. Keep in mind there are two areas that need proper healing — where the fat was removed and the buttocks. Patients should try their best to not place unnecessary weight on the backside for at least 1 – 2 weeks following surgery. Once the swelling has gone away, results can be seen, but in most cases, the full outcome is seen in about 4 – 6 weeks. The butt will look fuller and shapelier. Even better, the body parts that had fat removal may make your result more dramatic if it was implemented on the hips or lower back.
Brazilian Butt Lift Frequently Asked Questions
How much does a Brazilian butt lift cost?
The total cost for your Brazilian butt lift (BBL) will include the costs for both liposuction and fat transfer surgery. As soon as Dr. Carreon has created your BBL surgical plan, she will be better able to estimate your costs after consultation. We want you to concentrate on getting the results you want from a medical director you trust, like Dr. Carreon, so we'll work with you to make your Brazilian butt lift. LCS Medical Spa accepts many payment methods and we can help you find low-interest medical financing.
Benefits of a fat transfer?
A Brazilian butt lift is very popular because it utilizes a fat transfer to create the shape many patients desire. During your consultation, Dr. Carreon will assess your body to find the best areas with excess fat that would benefit from liposuction (typically the back, thighs, or stomach). If you have a low body fat percentage, you may not be a candidate for a Brazilian butt lift. In this case, liposuction might be the right fit. Dr. Carreon can contour the body to provide a more rounded butt.
How long will my results last?
While some fat may be reabsorbed by your body after the transfer, most of the fat cells will remain in their new location for a long time. To maintain your results, you should keep your weight steady since significant weight gain or loss will compromise the results of the surgery. This is why Dr. Carreon recommends you be at or near a healthy, stable weight before your Brazilian butt lift so it is easy for you to maintain.
How can I recover faster after a BBL?
To help speed your recovery after a Brazilian butt lift, Dr. Carreon or a member of her team will go over post-operative instructions and tips. You will need to avoid sitting on your butt for at least 1 – 2 weeks as the area heals. Dr. Carreon recommends you get a donut-shaped pillow or a Boppy nursing pillow that allows you to sit so the pressure is on your thighs instead of your butt. Short walks and light stretching can help to improve your blood circulation and decrease inflammation. Dr. Carreon may also recommend a lymphatic drainage massage to speed your healing.
Will a Brazilian butt lift remove loose skin?
The name of the surgery, Brazilian butt lift, is a little deceiving because it is not actually a butt lift (gluteoplasty), which surgically removes loose and sagging skin from the buttocks. However, the possibility of new volume added to your butt during a BBL may fill some of the loose skin. Not all patients are candidate for this procedure, Dr. Carreon can discuss your options based on your goals during your consultation.
Brazilian Butt Lift Shape Your Rear
The Brazilian butt lift procedure is so popular because it allows men and women the chance to attain the shape and figure they have always wanted. With the world around us focusing in on a healthy, rounder backside, the Brazilian butt lift has quickly become one of many calls and inquiries at LCS Medical Spa. Again, not all patients are a candidate for this procedure.
Related Procedures
Related Post