About BroadBand Light Therapy
Broadband light (BBL) treatment uses regenerating technology to enhance the aesthetics of your skin and helps it to look more youthful and smoother. It works by employing therapeutic light energy that mildly warms the skin and initiates collagen production. Those with a variety of skin conditions can benefit from BBL because it works to correct sun damage, unwanted freckles, rosacea, and broken blood vessels. It can also help create a more even skin texture to generate fresh, glowing skin. BBL can be added to other aesthetic treatments to meet your requirements and goals. Additionally, Sciton BBL can be used for alternative treatments including laser hair removal with Forever Bare. BBL has been compared to IPL, though it is greatly enhanced. BBL was created to increase safety and overall results. Our practice, LCS Medical Spa in Seguin, TX and the surrounding areas, provides BBL at the recommendation of Dr. Melanie Carreon as an innovative therapy proven to help restore our patients' confidence in their skin.
Reviews
"Dr Carreon is the best ! I went in for a consult for a medical procedure and she answered all my questions and gave me the pros and cons. I liked how she gave me the realistic possible outcomes so that I was prepared for it during my healing process . 10 weeks later after myProcedure iam very satisfied with myResults and still seeing improvements everyday . Thankyou Dr. Carreon and her assistant Christina !"
- D.Q. /
Google /
Feb 01, 2020
"Dr Carreon is the best ! I went in for a consult for a medical procedure and she answered all my questions and gave me the pros and cons. I liked how she gave me the realistic possible outcomes so that I was prepared for it during my healing process . 10 weeks later after my Procedure iam very satisfied with my Results and still seeing improvements everyday . Thankyou Dr. Carreon and her assistant Christina !"
- D.Q. /
Google /
Feb 28, 2020
"I have done my procedure 12/20; I wanted to wait before I submit the review. I love my results; Dr, Carreon did a great job with me, she is a smart lady, the minute I saw her I felt comfortable. The things I mostly like is that your health and safety are number one for them, they are very detailed and organized in a good way. I loved the staff everyone did great. I didn't loose weight at all but I have flatter tummy and thiner waist; liposuction is not to loose wait y'all, it's to countor your body. No pain during procedure I was relaxing but I could feel the cold wipes for the disinfectant, it was really cold, I loved the two warm pillows they gave me during procedure. After procedure you'll experience some discomfort but it wasn't bad at all. I was worried about pain. I'm much happier with my body, thank you Dr. Carreon, you deserve more that 5 starts ⭐️⭐️⭐️⭐️⭐️⭐️⭐️⭐️⭐️⭐️."
- Z.P. /
Google /
Feb 27, 2020
"I had smart lipo just about 2 weeks ago. I feel amazing and my confidence is thru the roof already. I know this will not be my final results so I'm looking forward to them...as far as Dr.carreon she was absolutely amazing and straight forward which I appreciate very much. I cannot believe how amazing she has my body looking like. Her staff starting with Priscilla and then Gabby and Sam have been nothing but the best with so much respect from them...I felt so comfortable the whole time and the procedure went so smooth. I didn't feel a thing. Best advice I can say is don't sleep the night before and you shouldn't have an issue falling to sleep for the procedure. I'm so in love with myself. Another important thing to maximize the results be sure to get the lymphatic massages they will speed up your results and recovery. I just want to give thanks and so much love to the staff of Dr.Carreon. i would do it all over again no questions asked."
- S.A. /
Google /
Feb 23, 2020
"Smart lipo - I cannot believe my results - She is amazing! I got smart lipo in my lower/upper abs pubic sides and my bra roll. My results do far have been amazing it's do crazy how small my stomach is. I'm 10 days post op and went for my first lymphatic massage (wish I went sooner) as I was starting to get fibrosis in some areas. I highly recommend them as they will make you feel so much better.I should have went 24-48 hours after my surgery. The swelling is there especially in my pubic area at times it was really scary but completely normal. But so far so good I cannot believe my results. The doctors assistance are amazing as well and always available for any questions I have. There bedside manner is so nice and they walk you thru every step of the process. If I could do it again I would with the same doctor no questions asked."
- A. /
RealSelf /
Feb 16, 2020
Previous
Next
BBL Corrective is beneficial in the treatment of several skin concerns including age spots, freckles, small blood vessels, rosacea, acne, and skin laxity. Utilizing light energy, the BBL Corrective technology helps to activate the regeneration of skin cells for a healthier, clearer complexion.
Forever Young BBL can be used to treat all areas of the body and works to diminish signs of aging through advanced light therapy. Through targeting sun damage, age spots, redness, and more, Forever Young offers effective results for more youthful skin.
With the power of light energy, Forever Clear BBL uses an innovative two-step treatment process to help eradicate acne and the bacteria that causes it. Through the first step, blue BBL light is used to clean deep within the pores. With the second step, yellow BBL light works to decrease inflammation and redness for a more even complexion. SkinTyte II can also be added to the treatment process to help stimulate healing.
Forever Bare BBL offers innovative hair removal treatments for smoother overall skin. With thermoelectrically cooled sapphire plates, Forever Bare BBL works to make the treatment as comfortable as possible through continuous cooling technology.
Broadband Light Therapy Ideal Candidates
An ideal candidate for BBL is any patient suffering from hyperpigmentation or textured skin, or is desiring hair removal options. This could be due to acne, sun damage, damaged capillaries, or rosacea. BBL also helps to make the skin appear younger by stimulating the regeneration of collagen. Depending on the type of modality and filter used, BBL can be used as both a treatment and/or maintenance regimen for a wide array of skin conditions. Before receiving treatment, Dr. Carreon and her team will explain how BBL technology might help achieve your desired results.
Broadband Light Therapy Procedure Technique
After developing a personalized treatment plan, the settings of the BBL device will be adjusted to fit the needs of your skin. Before beginning the procedure, your eyes will be covered to protect them from the light of the laser. Our Aesthetician will then gently pass the laser over your skin while concentrating on the problem areas. The amount of time needed for the treatment will vary, depending on the skin condition and if any other treatments were added to the BBL procedure. BBL procedures can typically be completed in about an hour or less.
IPL can also be used to help produce better results. Our licensed Aestheticians use IPL to heat the skin just enough to ignite the natural regeneration process and boost collagen production.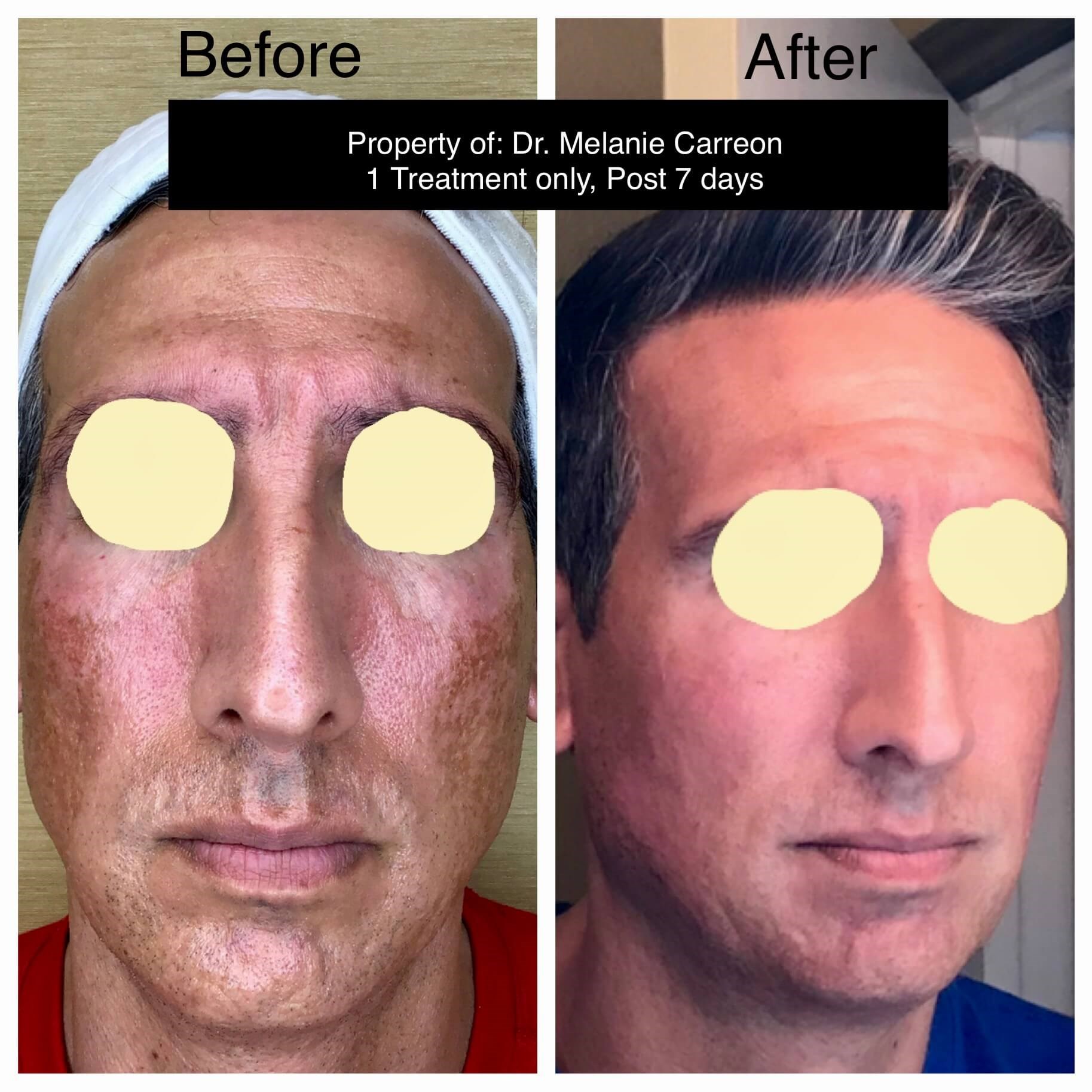 What to Expect with Broadband Light Therapy
Following the treatment, a soothing cream will be applied to your skin. A member of our team will also give post-treatment care instructions and may advise limited sun exposure. Otherwise, patients are typically able to resume their normal daily routine. Results from BBL can be seen within 2 – 6 weeks following the initial treatment, but optimal results will typically be seen after multiple BBL treatments. We will provide the recommended number of treatments to receive your desired outcome.
Broadband Light Therapy Frequently Asked Questions
How much does BBL cost?
Dr. Carreon will be able to estimate your costs during your initial consultation once your BBL treatment plan has been created. Your costs will depend on what area(s) you are having treated, the size of the treatment area(s), and how many sessions will be needed. Once Dr. Carreon assesses the condition of your skin and listens to your concerns, she will work with you to develop your custom BBL plan. LCS Medical Spa often offers specials on skin treatments, like BBL, so be sure to ask about our current deals during your appointment.
How many treatments will I need?
The number of BBL sessions needed will be discussed during your initial consultation after Dr. Carreon examines the condition of your skin. On average, patients achieve their skin goals after three sessions. However, if you have severe pigmentation, discoloration, or sun damage, you may require more treatments. In your consultation, Dr. Carreon will listen to your concerns and develop your custom treatment plan. Your BBL sessions will be spaced about 3 – 4 weeks apart to allow your skin to heal.
What areas can be treated with BBL?
Most areas of skin can be treated with BBL, but some of the most commonly treated areas are the face, chest, neck, hands, shoulders, and upper back. These are the areas that typically have the most visible damage since they are regularly exposed to the sun. The face, neck, and hands are also most often affected by natural aging and lifestyle so treating these areas can help rejuvenate your overall appearance. During your consultation with Dr. Carreon, tell her about all your areas of concerns so she can create a comprehensive treatment plan.
How is BBL different from other lasers?
The innovate Broadband Light by Sciton is a high-powered intense pulsed light (IPL) skin treatment. The dual lamps and the wide range of energy wavelengths allow Dr. Carreon to customize your treatment for your needs and goals. With varying wavelengths, BBL can treat both brown and red lesions, as well as light and dark spots, without damaging the areas of skin and tissue nearby. Safe but effective, BBL can give you a clear, beautiful complexion in less time than many other laser skin treatments.
Is BBL safe for all skin tones?
Since the energy wavelengths in a BBL treatment can be adjusted for your unique needs, BBL is safe for all skin tones. To receive your best results, Dr. Carreon recommends you avoid unprotected UV (ultraviolet) light exposure (both natural sunlight and tanning beds) for at least 10 – 14 days before your appointment. Tanned skin has an increased amount of melanin (pigment), which may absorb the BBL energy and affect your results. Your skin will be extra sensitive to UV light so you should continue to limit your sun exposure and not use tanning beds throughout your treatment and for at least two weeks after your last treatment.
BBL therapy uses modern technology to improve the look and feel of your skin, no matter what skin condition you may be experiencing. By creating youthful, glowing, and smoother skin, BBL can help you regain confidence about your appearance. To learn more about BBL treatments and if they are the right solution for you, contact LCS Medical Spa to schedule your consultation.
Related Posts